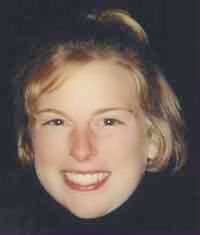 Casey, a 22 year old student at St. Louis University and an active member of Sigma Kappa Sorority and Alpha Phi Omega Fraternity passed away on February 15, 2002 due to complications from a heart transplant. Throughout her life, Casey valued charitable work and helping others. It is our hope that funds raised by this association will help relieve the suffering of others in a similar situation.
"When life hands you lemons-make lemonade". This is a saying we have all heard. However, we have recently come to associate this message with the memory of Casey Hohman who took this statement and made it her motto. A poster hung in both her room at home and away at school with that saying. It exemplifies her attitude towards her illness and life in general. At the age of 13, Casey was diagnosed with a heart condition. This condition became more serious over the years and she was eventually placed on a heart transplant list at the age of 16. During the next six years, she was subjected to lengthy hospital stays and continuous bad health. Despite this hand she was dealt, she hid her fear with contagious laughter. Those who knew Casey remember this quality as well as her always-present smiles. Her grace and spirit were an example to us all. Throughout everything, she always presented a positive attitude, a smile and something to laugh about.
Casey never let anyone know that she did not feel well. She saw her condition as an opportunity to improve the life of those around her. When Casey first became sick, she began volunteering at St. Louis Children's Hospital. Her ability to cope with her problems gave hope to others in similar situations. During this time, she was a student at Incarnate Word Academy. While she was there, many opportunities were presented to do service work within the community. It was at this time that a strong sense of service began to drive her. She did not feel sorry for herself or the lot she had been handed and was determined not to let her illness rule her life. Casey felt there were many more people out there who needed help more than she did. In 1998, she graduated from Incarnate Word Academy on time with the rest of her class as a member of the National Honor Society. Without losing momentum, she went off to college where she began working on a double major in marketing and finance in the John Cook School of Business at St. Louis University. She was heavily involved in campus life at SLU. She received the St. Ignatius Loyola Service Scholarship, which is presented to SLU students who are committed to community service. As a member of Alpha Phi Omega service fraternity, she worked with underprivileged children providing them with love and attention. While she loved this organization very much, Casey finally seemed to find her home when she joined Sigma Kappa sorority. She was a founding sister, and took her role very seriously. She loved her sisters very much. While she was a member of Sigma Kappa, she continued her work within the community. It was this commitment to service that inspired us to organize an annual run/walk in Casey's memory.
While Casey was a senior at SLU, her illness began to take over more than she could fight off. The doctors decided that a transplant could no longer be avoided. On November 14, 2001, thanks to a donor, Casey received a healthy heart. After a 2 week stay in the hospital, she came home. Christmas was always a very special time for Casey, but this Christmas was very important to all of us. Even though she was unable to go out and shop for presents, she still managed to make or obtain a gift for everyone. This was yet another example of her cares and concern for other people. Regrettably, this happiness was short lived by her family and friends. A few weeks after the start of the new year, she returned to the hospital due to complications. Her body began to reject the heart. The doctors tried their best and gave more than could have ever been expected. Casey fought long and hard, but on February 15, 2002, God called her home. To commemorate her positive outlook on life and unwavering grace under pressure, the Casey A. Hohman Memorial Run/Walk has been established in her honor. It is our attempt to make lemonade from our lemons.